In this demonstration, we use the foam peanuts to illustrate a concept called
ELECTRIC CURRENT
. Electric current is similar to water current (think river), only instead of water molecules, we have
ELECTRIC CHARGES
flowing.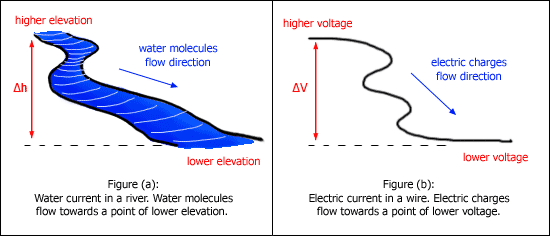 The current in a river happens due to
a difference in height
. One end of the river has to be at a HIGHER ELEVATION than the other for the water molecules to start flowing. This is because the water molecules at the higher end has a bigger
gravitational potential energy
, just like the heavy ball in the previous demo. Electric current is similar to this: it happens due to a
difference in voltage.
One end of the
conductor
(typically a wire) has to be at a HIGHER VOLTAGE than the other. The charges at the higher voltage will have a bigger
electrical potential energy
and will start "flowing" towards the lower voltage.
Electric current is defined as the amount of charges that pass through a point every second. In the video, the charges are the foam peanuts, and the point that they're passing per second is the loop that bill is making with his arms.
Electric current is most commonly observed in an electrical circuit where charges "flow" inside the wires of the circuit (more:
hands-on circuit demo
). However, this does not necessarily mean you are required to have a wire in order to observe current. Charges flow through a path of least
resistance
, and a wire (particularly copper wire) happens to have a really low resistance. Air, on the other hand, has a really high resistance, and that is the reason why you don't usually see electric current in air. HOWEVER, it is not impossible for current to be observable in air; this can happen when there is a BIG VOLTAGE between two point. More on this is explained in the
Jacob's Ladder demo
.
The following diagram compares SMALL current and BIG current.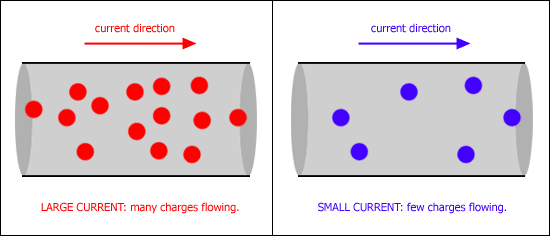 Essentially, the MORE CHARGES flow through a point per second, the GREATER CURRENT we have.