................................................
................................................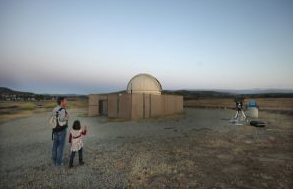 The university's 
Department of Physics & Astronomy
 puts on the events, which are free to the public. The main attraction is the 24-inch diameter Ritchey-Chrétien telescope, which allows visitors to view astronomical objects such as planets and galaxies.
UCI Observatory 
Visitor Night
 comes in two varieties, formal and informal. Formal nights are held Saturdays. The next one is June 1, when Saturn will be featured.
Informal visitor nights take place when there is a major astronomical event such as the Lyrid meteor shower April 21.  Some visitor nights are crowded, with up to 500 people in the summer months.
The crowd April 21 was relatively small, with about 100 people. Visitors got to gaze at star clusters through the telescope until around midnight.
Irvine residents Mark Steyvers and his daughter, Lia, 5, arrived early so they could get an early peek inside the observatory.
"This is the first time that we'll manage to get in," Steyvers said.
The observatory is looking for funding to add more visitor nights, which cost about $2,000 each night.
Visitor Night began in 1997 when 
Tammy Smecker-Hane
, director of the observatory, was convinced by two members of the campus astronomy club to give it a whirl. About 150 people showed up for the first Visitor Night, she said.   
Visitor Night typically kicks off with a brief presentation.
On the night of the Lyrid meteor shower, Andrew Graus, a physics and astronomy graduate student, explained why meteors glow brightly as they pass through Earth's atmosphere.
"They're moving really fast and they're hitting all the particles of gas in the atmosphere," he said. "They're essentially moving so fast that the temperature is hot enough to make that gas glow."
How fast? Meteors move at 45,000 mph, according to astronomers.
On formal visitor nights, Smecker-Hane sits at the observatory entry and answers questions.
"Where else in Orange County can you go to talk to an astrophysicist?" she said.
She gets a lot of questions from children. "If you spend 10 minutes talking to them, it can change their opinion of what they want to do when they grow up," she said.
.............................................
Link to original story: