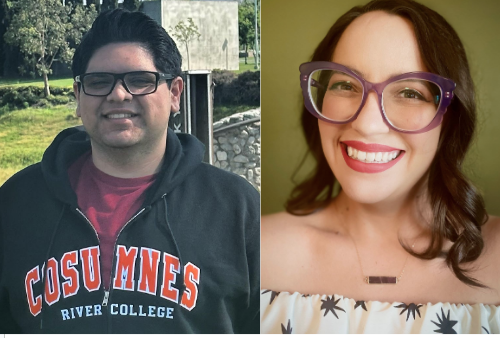 The Cal-Bridge program is pleased to announce that scholars Katy Rodriguez Wimberly and Manuel Paul at the Department of Physics and Astronomy at UC Irvine have accepted positions teaching. 
Katy Rodriguez Wimberly has accepted a position at Cal State San Bernardino as a tenure-track Assistant Professor, which includes conducting original astrophysics research, teaching and service (much of which will be the mentorship work with Cal-Bridge).
Manuel Paul has accepted a tenure track faculty position at Cosumnes River College, a community college in Sacramento, CA, where he will be teaching physics and astronomy courses starting in August.
This announcement helps to achieve the Cal-Bridge program's mission to diversify California public universities and the Science, Technology, Engineering, and Math (STEM) workforce.
As Katy states, "Cal-Bridge was crucial for me not only in preparing for graduate school but creating and expanding my network of amazing (and caring!) scientists – manu of my astrophysics research collaborators I've connected with through Cal-Bridge! My network and the support they give me has enabled me to create the career of my dreams which is doing excellent astrophysics research, contributing to an equitable and inclusive STEM community through mentorship work and research AND staying in Southern California with my family. I am beyond excited to continue my Near Field Cosmology research at California State University, San Bernardino in Fall as a tenure-track (Astro)Physics Assistant Professor and step into a new leadership role within Cal-Bridge as Director of Mentorship."
Congratulations to Katy and Manuel!
Read the original news press from Cal-Bridge here.
For more information, visit www.calbridge.org.
About Cal-Bridge:
The Cal-Bridge program has the mission to create a comprehensive, end-to-end pathway for undergraduates from the diverse student population of the CSU system through graduate school to a PhD, postdoctoral fellowship, and ultimately membership in the professoriate and science and technology workforce. Students in the program are referred to as Cal-Bridge scholars. The program is a partnership between 9 University of California (UC), all 23 California State University (CSU), and the 116 community college campuses in California, thus fulfilling the promise of cross-segmental cooperation envisioned in the California Master Plan for Higher Education. Scholars are recruited from CSU and community college campuses across the state, with the help of local faculty and/or staff liaisons at each campus. Community college students transfer to a participating CSU to join the program.