Mysterious galactic signal points LHC to dark matter
High-energy particles at centre of Milky Way now within scope of Large Hadron Collider.
---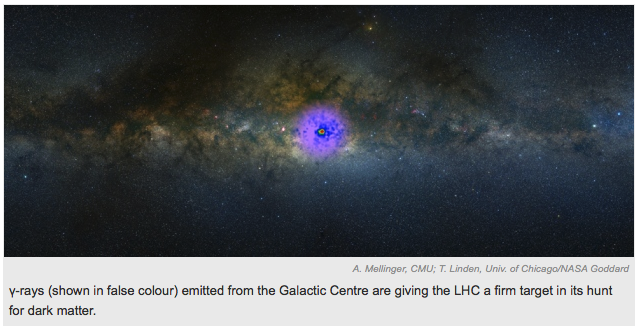 It is one of the most disputed observations in physics. But an explanation may be in sight for a mysterious excess of high-energy photons at the centre of the Milky Way. The latest analysis1suggests that the signal could come from a dark-matter particle that has just the right mass to show up at the world's largest particle accelerator.
The Large Hadron Collider (LHC), housed at the CERN particle-physics laboratory near Geneva, Switzerland, is due to restart colliding protons this summer after a two-year hiatus (see 'LHC 2.0: A new view of the Universe'). Physicists there have told Nature that they now plan to make the search for such a particle a top target for the collider's second run.
---